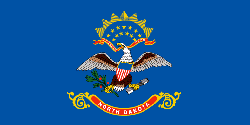 North Dakota
"Sioux State; Flickertail State; Peace Garden State; Rough Rider State"
Motto

Liberty and union, now and forever one and inseparable

Capitol

Name Origin

From the Sioux tribe, meaning "allies"

Statehood Date

Nov. 2, 1889 (39th)
Cities in North Dakota
NOTE: Not all cities are displayed. Please narrow your selection by using the search above.
Official Symbols
A state's official symbols represent the composition and culture of the land and people who live and have lived here. Below are the symbols of North Dakota along with the year they became official.
| | |
| --- | --- |
| Tree | American Elm (1947) |
| Bird | Western Meadowlark (1947) |
| Song | "North Dakota Hymn" (1947) |
| Fish | Northern Pike (1969) |
| Grass | Western Wheatgrass (1977) |
| Fossil | Teredo Petrified Wood (1967) |
| Beverage | Milk (1983) |
| State March | Spirit Of The Land (1975) |
| Flower | Wild Prairie Rose (1907) |
| Equine | Nokota Horse (1993) |
| Dance | Square Dance (1995) |
Demographics
Population Density

9.3 people per square mile
Geography and Weather
Land Area

68,976 sq mi. (178,648 sq km)

Lowest Elevation

0 ft (0 m)

Average Elevation

1900 ft (579.12 m)

Highest Temperature Recorded

121°F (49°C) on July 6, 1936

Lowest Temperature Recorded

–60°F (–51°C) on February 15, 1936